Although small kitchens lack space, they make it up for it with style. The secret behind this is that they allow for good storage despite the lack in space. Small kitchen spaces can be decorated in accordance to the user's taste and personality – it can either be cosy country cottage, contemporary or modern kitchen designs Northampton.
In this article, we have included few of our best small kitchen space designs. Discover these new ideas and see whether they can be part of your home.
Concealed Pantry
Like you can see above, the pantry is concealed within the small space. It is well compartmentalised and is easy for storage. Kitchen designs with concealed pantries frees up space to be utilised for other kitchen cabinets and units.
Adjoining Cooking Areas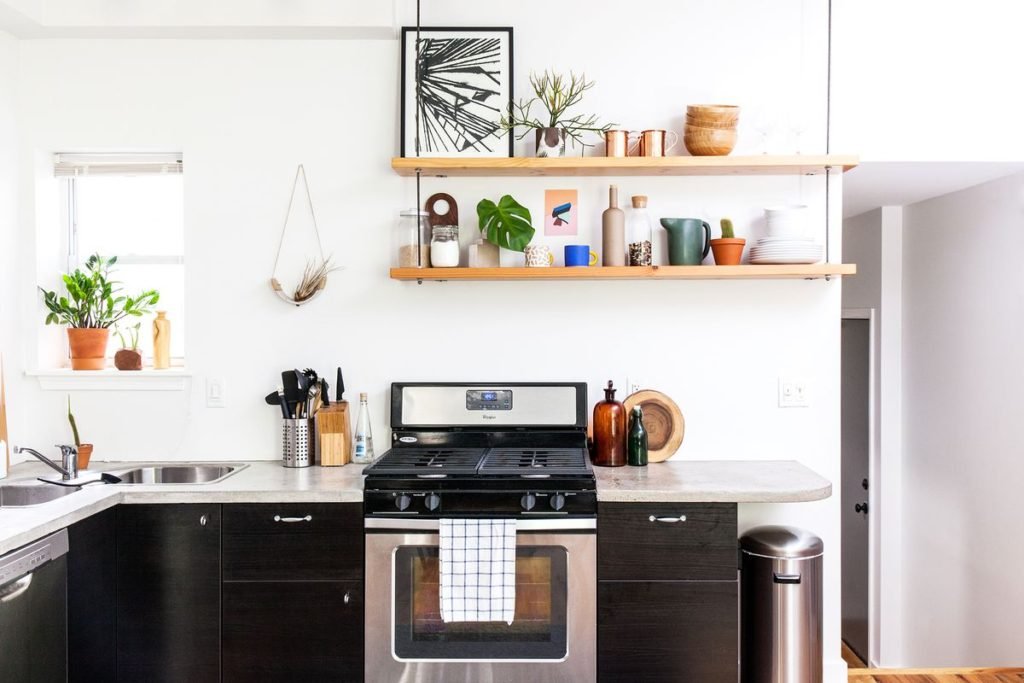 As lack of space is a major obstacle here, it is better to place the kitchen at a rear of the flats and be windowless. This way the available areas (the living room as seen the image above) or the bedroom can enjoy the window space instead. However, we strongly recommend placing the 'cooking area' as a part of the living room utilising the window space since it is important to have a ventilation in and around the kitchen area by law.
Galley Kitchen
Galley kitchens are excellent layout when you are short on space. For those of you who don't know, galley kitchen design has two parallel counters making all points of work triangle equally accessible. Few things that you need to keep in mind during this layout are:
      Aisle space
      Lighting and
      The storage area
Pretty Pantry
The utilitarian kitchen designs have deep cabinets and shelves offering ample of storage space. The touch of fresh flowers adds the much needed warmth to the neutral storage cabinets and shelves.
Mirror, Mirror on the Wall
Trying to adjust everything in a small space can be challenging as well as frustrating. However, you can use mirror for creating an illusion of bigger space in your small kitchen. Adding a touch of greenery around the space, such as small plants, will give it the much needed homely feeling and also neutralise plain kitchen cabinets and units colour theme.
Cupboard Kitchens
Cupboard kitchens are just what the name suggests. They can take place of an exposed kitchen area in 17 square meter studio apartment. It often appears to be a practice and a sophisticated looking alternative. Another name for cupboard kitchens is compact kitchens. They take less space, include most of the modern kitchen appliances, could be designed glamorously and compliment the rest of your home design.
All White
All white kitchens look aesthetic. You can add a splash of colour to it by adding fresh flowers, fresh fruit bowls and vintage crockery. But make sure that the colours you choose compliment the rest of your home décor.
A Living Room Kitchen Combo
A living room kitchen combo has a display of elements that usually don't go together. However, these elements are brought together by the colour scheme and the lighting. As you can see in the image above a compact kitchen with a dining table is placed adjoining the living room. The white sofa set compliments kitchen space as well as the living area, giving it a complete homely look.
Customised Kitchen
Customised kitchens are for those on a tight budget or limited funds. Customisation is the only way you can create your design while spending bare minimum on it. By adding inexpensive crockery and antique vase with fresh flowers every day can give your kitchen the much needed colour splash.
Remember you have to make sure that the kitchen blends in rather than standing out. Additionally, a well-planned storage space will help you make the space look clean and tidy.
Corner Table
You can turn the lonely corner of your small kitchen space into a dining area. It will not only provide seating but also a much-needed extra storage. If you have an empty wall besides the table, hang a paining to give it a welcoming appearance. With minimal decoration on and around the table will make it look neatly presented. Note to go with a dining set that blends well with your kitchen design and not something that look like an extra addition.