There are a few misunderstandings around translucent braces. Officially, clear braces W1  are either a ceramic or a ceramic polymer brace with the same method of action as a traditional metal brace. Therefore, the treatment time would be the same for either type, but clear aligners are often described as invisible/clear braces when that are not. They work in a slightly different way, which makes them inappropriate for more complex cases and their general treatment time can be longer.
The ceramic brace
The ceramic brace itself was the first attempt to create a subtle bracket. It was a first-generation with a glass-ceramic mix, but it was in constant risk of shattering if exposed to shock. They were only recommended for adults with sedate lifestyles and not suitable for those who played sports or had manual jobs.
Improvement in the general materials have allowed the ceramic brace to come on in strides, and now they are as suitable for patients who engage in sports as any traditional metal brace.
Ceramic brace providers
There are many clear ceramic brace providers on the market. Each one tries to distinguish themselves in a crowded market place, specialising in a slightly different area.
Clarity base with enamel shading
The patented design of the Clarity brace is focused around fitting and removal in the clinic. The stain-resistant polymer bracket comes in a wide variety of enamel shades, allowing your dentists to find the best match for you. These are fitted but use a thin wire to move the teeth as and when required.
Radiance oral glass
The first of the clear braces were made from a mix of glasses but this was abandoned for metal-based materials. Radiance has gone back to the glass, a very hardy sapphire glass which was originally developed by designer watch manufacturers for a shock-resistant watch face.
Colour mixing by InVu
InVu has taken colour-matching to the next level by using the colour matching techniques developed for porcelain veneers. A digital record of the patient's tooth enamel (both its shade and translucency) is made during the initial assessment. These are then used to manufacture a brace with the same visual qualities, allowing for a more discreet orthodontic device.
Clear aligners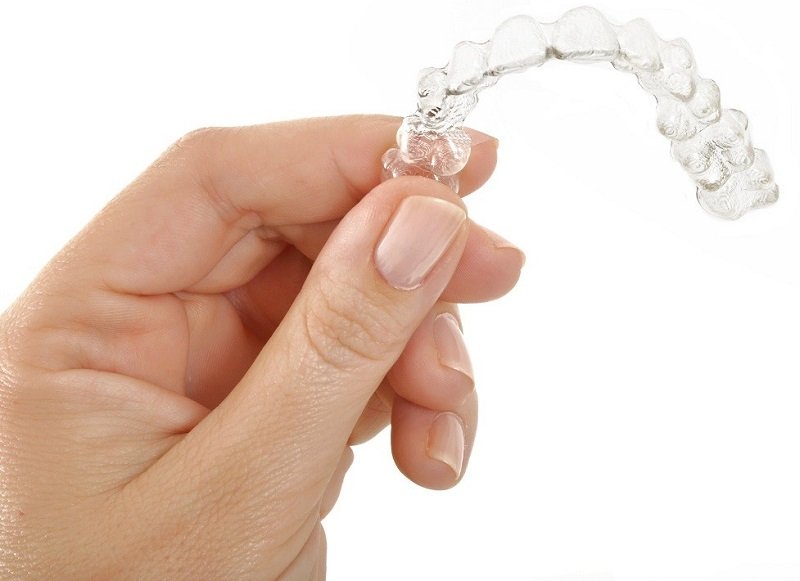 As mentioned before, clear aligners are not a clear brace but they are often confused. Here are some of the clear aligners which offer patients treatments from the comfort of their own homes.
Straight Teeth Direct
Straight Teeth Direct operate almost entirely through their own app, with which you can have a virtual assessment, make payments and charter progress. Their use of app-driven services has been seen as an unprofessional, which has led to them losing medical approval in the USA and India.
Smile Direct Club
This is one of the UK's biggest aligner providers using DIY home moulding kits. They have a set of 'smile shops' which can offer oral services like assessments, but are not true dental surgeries. They are happy to provide free tooth whitening with any of their aligner customers at the 'smile shops'.